Instructor: Holli Emore, MDiv.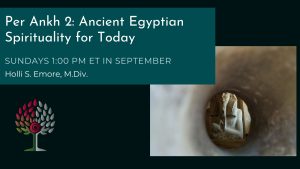 Meeting Time: Sundays in September 1 pm ET
Four more weeks about one of the most fascinating cultures of the past. Peek into the vast legacy of Djehuty (Thoth), the picture-writing we call hieroglyphs. What was heka, Egyptian magic and can we use it today? The many aspects of human identity: ba, ka, akh and khat, ren and more. The epic journey through the Duat
(afterlife).
Required Text(s): Temple of the Cosmos: The Ancient Egyptian Experience of the Sacred, by Jeremy Naydler. Inner Traditions 1996. ISBN-978-0892815555
Pinch, Geraldine. 2002. Egyptian Mythology: A Guide to the Gods, Goddesses, and Traditions of Ancient Egypt. Oxford: Oxford University Press. ISBN-978-0195170245
Registration now closed