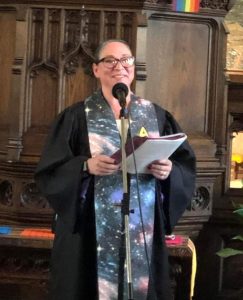 For Immediate Release
Date: Thursday, November 3, 2022
Columbia, S.C.—Cherry Hill Seminary is proud to announce that alumna Rev. Karen LeBlanc, M.Div. was officially ordained as a Unitarian Universalist minister and installed as the settled minister to the First Unitarian Church in New Bedford, Massachusetts in a special service held Sunday, October 30.
Members of the congregation, clergy colleagues, officials from the Unitarian Universalist Association, friends and family all gathered to recognize Rev. LeBlanc's achievements and charge her with her chosen vocation. Congregational President Steve Carmel stated, "Within the Unitarian Universalist religious movement the authority to confer ordination lies wholly with the local church. It is a meaningful and joyous occasion when a congregation joins together, as we have, to recognize one who has chosen the ministry as her life's work."
Highlights of the ceremony included the traditional laying on of hands by all present, the gift of a custom-made ministerial stole, and performances of music by the church Music Director Randy Fayan. To view the entire service, including remarks by Rev. Woullard Lett of the Unitarian Universalist Association, visit this link: https://youtu.be/vOR8SnnGm_s
After the ceremony, Rev. LeBlanc said, "I am experiencing a whole new kind of joy right now. I thank everyone who helped get me here, and I certainly wouldn't have had this opportunity to serve without the education I got at Cherry Hill Seminary." She further noted that half of the offering collected at the service would be given to Cherry Hill Seminary.
LeBlanc earned her Master of Divinity in 2019 from Cherry Hill Seminary. The Seminary Academic Dean Margo Wolfe said, "A quality seminary education is the bridge between the academic and the spiritual, the mind and the heart. It allows for that liminal space to sit with our own faith and see how it fits within the multiplicities of the many. Those who attain this level of learning through divinity degree programs and ordination can provide that instruction, but also the comfort to others as they find their own path."
Cherry Hill Seminary is the leading provider of education and practical training in leadership, ministry, and personal growth in Pagan and Nature-Based spiritualities for more than fifteen years. For more information contact CHS@cherryhillseminary.org, 803-862-9088.
Photo courtesy of Karen LeBlanc.