For Immediate Release, August 11, 2023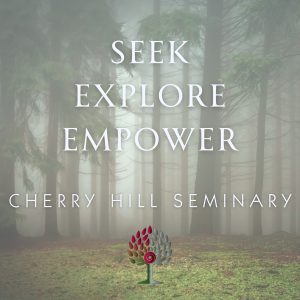 COLUMBIA, SC — Cherry Hill Seminary today announced new vision and missions statements for the organization. The statements reflect several months' work by a special committee which consisted of board members, students, staff, volunteers, and faculty, and followed a special survey in the spring of all who are on the broader Seminary email list. Here are the new foundational texts:
Vision 2023: Cherry Hill Seminary envisions a world where people of Pagan and Nature based spiritualities can receive competent and compassionate spiritual support.
Mission 2023: Cherry Hill Seminary serves Pagan and Nature-based communities by providing transformative education and empowering students to advance academically and lead spiritually.
Board chair Jeffrey Keefer noted, "We are proud of our work, and as we look into the future, we want to invite those intrigued and feel called to share in our vision to join us as we seek to make the world a better place. Know that our efforts are guided through the lens of our Mission, one we continue to live every day."
The committee was chaired by Laurel Holmstrom-Keyes, who said, "The impetus for reviewing the Vision and Mission came from our pursuit of [future] accreditation. It was important to the Board that our Vision and Mission were strongly reflective of the work of Cherry Hill Seminary."
A promotional tag line, "Seek-Explore-Empower," was also suggested by the committee. A process for rollout and implementation of the new vision and mission include suggestions for faculty, board and staff use, posting in strategic locations on the web site and in classroom platforms, new social media graphics and the video here.