For Immediate Release, March 5, 2023
COLUMBIA, SC — Cherry Hill Seminary today announced the graduation of Cynthia D. Cebuhar, awarding her the Master of Divinity in Ministry, Advocacy & Leadership.  Cebuhar is the seventh student to complete her master's degree at Cherry Hill Seminary.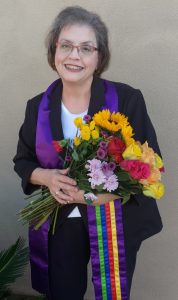 During the March 4 virtual ceremony, Academic Dean Margo Wolfe explained the importance of Cebuhar's accomplishment, saying, "Cherry Hill Seminary is honored to confer this Master of Divinity degree to Cynthia. As the only provider of Pagan and Nature-based master programs, we see the need now more than ever in our growing international Pagan population." In her opening remarks Seminary director Holli Emore said, "Cynthia embodies the very mission of Cherry Hill Seminary, to empower and lead others as they seek their own spiritual meaning."
"We are proud of the accomplishments Cynthia Cebuhar has made as she studied toward her Master of Divinity degree," Seminary board chair Jeffrey Keefer shared, "And we are even more thrilled knowing the potential she has for taking her success and using it to help transform the world. Cynthia is an example of one who comes for their studies while leaving a new person with the knowledge, passion, and commitment to make the world a more inclusive, healthier, and inspired place."
The Master of Divinity degree is a terminal degree, requiring significantly more credit hours and practical experience than a master's degree. Cherry Hill Seminary is the leading provider of education and practical training in leadership, ministry, and personal growth in Pagan and Nature-Based spiritualities, empowering spiritual leadership, scholarship, and ethics through theological and pastoral education to nurture interfaith engagement in a diverse society. For more information, visit www.cherryhillseminary.org or write CHS@cherryhillseminary.org.