FOR IMMEDIATE RELEASE
Date: September 16, 2020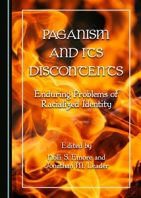 Columbia, S.C. —Cherry Hill Seminary announces the release of "Paganism and Its Discontents: Enduring Problems of Racialized Identity", a volume containing papers presented at a 2019 symposium by the same name, plus a preface by sociologist Helen S. Berger. The symposium was a joint effort of Cherry Hill Seminary and the University of South Carolina Institute of Anthropology and Archaeology (SCIAA). The symposium was the first academic conference to address the specific issue of racialized identity theology in some contemporary Pagan religious traditions.
Proponents of racist interpretations of pre-Christian Norse-Germanic spiritualities have claimed to be preserving "heritage", while others belonging to the contemporary Heathen movements have moved to distance themselves from "volkish" thinking. Long-simmering just beneath the surface of American Paganism, racialized Heathenry was on full display in 2017 in Charlottesville, Virginia. Tragically and ironically, news of the Christchurch, New Zealand shooting reached symposium attendees as they arrived for the opening session.
"Paganism and Its Discontents" is edited by Holli S. Emore and Jonathan M. Leader. Contributors include Michael F. Strmiska (keynote address for symposium); Jefferson F. Calico; Ben Waggoner; Diana L. Paxson (guest speaker for the symposium); Gus diZerega; Tahni J. Nikitins; Holli S. Emore; and Stephan Grundy.
"Symposium papers are presented not just for the purpose of scholarship, although they will add considerably in that regard," states Seminary director Holli Emore. "But they are also shared in the hope that better knowledge of the ideas underlying white supremacy presenting as a religion will begin to turn back the ugly tide of rising hate and violence." Co-editor Jonathan Leader, SCIAA director and S.C. State Archaeologist, noted that, "The book is the direct result of individuals who were engaged with the communities of concern. The information they provide is not simply from an academic standpoint but represents the communities themselves."
Currently available in hardback from Cambridge Scholars Publishing, at https://www.cambridgescholars.com/paganism-and-its-discontents
For more information, contact Tracie Mooneyham, Marketing Coordinator at tmooneyham@cherryhillseminary.org.