Read submissions from the Cherry Hill Seminary community – everything from seasonal reflections and course highlights, to staff publications and notes from the Executive Director.
---
Media and More
Cherry Hill Seminary is active across many communities and groups, both physical and virtual. With a dynamic group of staff, students, and partners, there is always something worth reading with CHS!
Sign up to receive our newsletter – we won't SPAM you, promise!
Press releases and announcements from CHS.
Cherry Hill Seminary honors those who have passed on. Join us as we remember their lives and pay tribute to their spirit!
---
CHS Events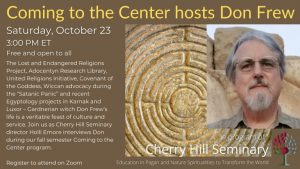 Coming to the Center
Donald H. Frew is an Elder in the NROOGD and Gardnerian Traditions of modern Wicca, and High Priest of Coven Trismegiston in Berkeley CA. Within the Gardnerian Tradition, he is known as a historian and theologian. Working with his wife, Anna Korn, they compiled, edited, and in 2007 circulated a new edition of the Gardnerian Book of Shadows, incorporating material from their research in early Gardnerian texts and resulting in a Book of over 650 pages.
Saturday, October 23 at 3:00 PM ET
Learn more about this group on our Coming to the Center page!