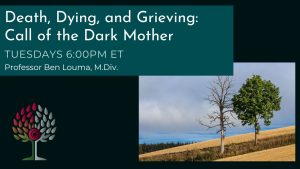 Instructor: Ben Luoma, MDiv
Meeting Day/time: Tuesdays, 6:00 pm ET
A survey course about end-of-life issues, death, dying and grieving, to better prepare Pagans who hear the call to this sacred work, and for those who encounter it as part of their overall priest/esshood. Death is a natural part of the cycle of life, but it is often the most challenging part of our ministry. We may be called upon to work with the dying, to counsel those who are tending to the dying, to officiate at funerals and memorials, to intercede in situations where there may be conflicting faith traditions, to respect the dying and all the mourners, and to counsel the bereaved. We will also look, briefly, at the funeral industry and alternatives.
Required Text(s): 
Starhawk, & NightMare, M. M. (2013). The Pagan Book of Living and Dying. Harper Collins.
Walsh, K. (2021). Grief and loss: Theories and skills for the helping professions, third edition (3rd ed.). Waveland Press.
 Gawande, A. (2014). Being mortal: Medicine and what matters in the end. Macmillan.
Registration now closed