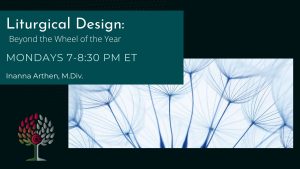 Study of extant liturgical practice in contemporary Paganism and development of seasonal celebrations and rites of passage. Liturgical terminology from theological discourse is defined and applied to Paganism to broaden ability for interfaith engagement. In a Pagan context, studies will explore the mythos cycles upon which many traditions build their liturgical year, as well as the structure of ritual itself. In critically analyzing ritual structure, students will develop theories about what makes "good" ritual, with the intent of applying those theories to rituals created for this course. Final project is a collection of original rituals-devotional, petitionary, and benedictory-created by the student.
Department: Ministry, Advocacy & Leadership (MAL)
Required Reading: 
In memoriam: A Practical Guide to Planning a Memorial Service by Amanda Bennett and Terence B. Foley, Touchstone Books, 1997, 978-0684819020, (available in paperback and Kindle ed.)
https://www.amazon.com/Memoriam-Practical-Planning-Memorial-Service/dp/0684819023/
(not the book of the same title and topic by Edward Searle)
The Pagan Book of Living and Dying: Practical Rituals, Prayers, Blessings, and Meditations on Crossing Over by Starhawk, M. Macha Nightmare & The Reclaiming Collective, HarperOne, 1997, 978-0062515162
(available in paperback and Kindle ed.)
Rituals of Celebration: Honoring the Seasons of Life through the Wheel of the Year by Jane Meredith, Llewellyn Publication, 2013, 978-0738735443, (available in paperback and Kindle ed.)
Worship That Works: Theory and Practice for Unitarian Universalists by Wayne B. Arnason, Skinner House Books, 2017, 978-1558968097 (available in paperback and Kindle ed.)
Class Meeting:  Mondays, 7-8:30 PM ET
Total Tuition Cost: $570
To register:
If you are new to CHS, first complete this form, then the office will send you an invoice.
Current CHS students, please log in to your Populi account to register.
Professor: Inanna Arthen, M.Div. – a practicing eclectic Pagan since the 1970s and an initiated Witch since 1984. Her extensive background in spiritual and social service includes ten years with the Boston-based EarthSpirit Community and ten years as a residential counselor and Team Leader in a domestic violence shelter, where she received training and certification in crisis counseling, mental health and substance abuse issues. She earned her Masters of Divinity degree at Harvard Divinity School in 1998, writing her Masters Thesis on the legal and practical challenges of founding an independent Pagan church. Raised in the Unitarian Universalist church, Inanna began preaching in UU churches as a guest speaker in 1994 and served on the Ministry Team for the First Parish UU of Ashby, MA. She has been serving as minister of the Unitarian Universalist Church of Winchendon since May, 2013.