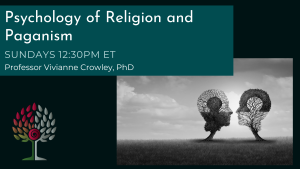 Students explore the application of psychological principles and research to religion in general, and Paganism in particular. Provides clergy with a basic understanding of psychology, which enhances later study in counseling and curriculum development.
Instructor:  Vivianne Crowley, Ph.D.
Meeting times: Sundays 12.30 pm ET on January 14, 28; February 11, 25; March 10, 24; April 7. Posting required weekly. 
Required Text(s): None. Readings will be supplied by instructor.