Cherry Hill Seminary is excited to announce that Dr. Margo Wolfe will become the Academic Dean effective January 1, 2022. Her appointment comes after several months searching and interviewing potential candidates.
About Dr. Margo Wolfe
Dr. Wolfe is an educator, writer, and Pagan with an earned PhD in Curriculum, Instruction, and Assessment from Walden University and a MA in English/Writing from Gannon University. With over 13 years-experience in post-secondary schools, Wolfe has written, taught, and assessed multiple curricula in a variety of subject areas and served as accreditation chair for programmatic and institutional teams.
With over 25 years-experience leading Pagan groups in Northwest PA and New York, she has served in leadership roles such as Administrative Director and President of the Sisterhood of Avalon, helping to develop policies for better governance and creating curricula for youth members. In addition, Dr. Wolfe has liturgical experience in the larger religious community, has presented at various festivals and conferences such as Sirius Rising and PantheaCon, and is published in several Pagan anthologies. In her spare time, she creates large-scale interactive and immersive art installations with her partner.
As New Academic Dean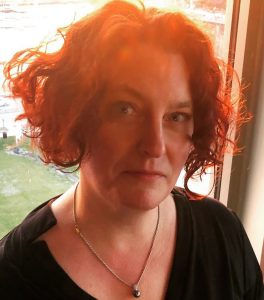 "I am thrilled to be joining the administrative team at Cherry Hill Seminary as the new Academic Dean and I am thankful to Candace Kant for her guidance in this transition. In the past, I have served as an instructor and accreditation compliance officer for Cherry Hill. Most recently I have helped to guide the curriculum team through an alignment process in the effort to standardize our practices and prepare us for accreditation."
"As Academic Dean my goal is to create connections between all members of the Cherry Hill family and, in particular, assist our faculty as they mentor students through their educational process. One of our values that stands firmly in my mind is 'Advocate service to our communities.' As a member of the Cherry Hill family, I will focus on service to our students, our faculty, and to the larger Pagan community and how we can see that value honored in everything that we do. I am excited to begin this journey with you and I am most humbly honored to be of service to our Cherry Hill family and to the larger Pagan community."
Executive Director Holli Emore said, "Dr. Wolfe brings to her new role a background which is particularly valuable at this time in our institution's development. I am confident that she will be a worthy successor to Dr. Kant, who has served the Seminary for so many years."