Light and Darkness: The image on the Chariot card is usually that of a person riding alone on a chariot which is being pulled along by two opposing forces. The Charioteer has a calm faith that the journey will lead to a positive result. Spiritual care is how we attend to our own spiritual needs as we cope or help others to cope with illness, loss, grief or pain to help ourselves or others heal emotionally as well as physically, rebuild relationships, and regain a sense of spiritual wellbeing. In this class, we will talk about the use of the Tarot as a tool for spiritual care.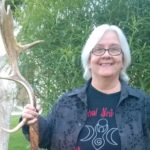 Instructor: Joan DeArtemis
Class Meetings: Wednesdays 9 PM ET –  week of Nov 20 to week of Dec 17
Required texts:
Greer, Mary K.. 2002. Tarot for Yourself. Wayne, NJ: New Page Books.
Pay to register now