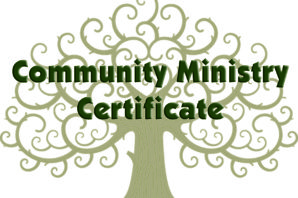 Cherry Hill Seminary announces the opening of a new Community Ministry Certificate. Those who successfully complete the 15-month mentored independent study can apply for ministerial credentials with Sacred Well Congregation.
Read more below then click here to register

What Would I Learn?
15 month-long modules placed in our online classroom will give you a brief introduction to these topics:
Ethics
Pagan history and theology basics
Creating and leading ritual
Diversity & cultural understanding
Personal spiritual development
Serving people at various life stages
Group leadership
Family dynamics
Addiction issues
Domestic violence issues
Ministerial prep for SWC
Where Are Classes Held?
There are no live class meetings – all media presentations, readings, web resource links and discussion lists are in our online classroom. With good internet access you can do this from anywhere in the world, any time of the day, 24/7.
Who Will Be My Teacher?
Instead of a teacher, you will be assigned a faculty mentor who has experience in community ministry. That mentor will stay with you throughout your independent study, checking in with you each week on the discussion list and giving you feedback and evaluations. Your mentor will probably also want to have phone or Skype meetings periodically.
How Much Will This Cost?
When you register for the program you will set up a Paypal monthly payment of $100. The work is self-paced, but you are expected to complete each module in the month so you can go on to the next. If you drop out or must take a leave there is no refund. When you return, there is a reinstatement fee equal to one month's tuition. There are a few books that you must purchase on your own. Many of the readings will be posted in your classroom.
What If I Am Not Interested In SWC Credentials?
That's fine. You and your mentor will work out some details of your program which are specific to your tradition (or no tradition). At this time, SWC is the only organization offering ministerial credentials to CHS students, but we hope there will be additional options in the future.
Will This Mean I'm Able to Legally Marry Someone?
Maybe – the laws are different in each state. It will give you an endorsement by a recognized body in addition to education from a respected source, and you will be better prepared to offer this service to others.
How is This Different From a Master of Divinity Degree?
An MDiv is a full graduate degree, comparable to any graduate degree you would receive at a university or other seminary. It is often required for professional chaplaincy or paid congregational ministry. The Community Ministry Certificate is not a graduate degree, and is designed for the many individuals who are doing work in their own community and who need an introductory program to help them with the skills and knowledge they need. You do not need a college degree in order to enter the CMC program.
Do You Have Scholarships?
Not at this time. Cherry Hill Seminary offers the highest quality Pagan-focused education at the best prices available anywhere. But we do this on a very tight budget. We think that if you look around at tuition rates for other seminary programs, you'll be astonished at how reasonable our tuition rates are.
When Does the CMC Program Start?
Students may begin registering now for the program rollout on January 1, 2017. Since the program is for independent study, there are no dates for classes, just your individual progress through the modules.
Why Didn't You Do This Before Now?
In its early days the Pagan world was a little different. Most people belonged to covens, and some of those leaders advised CHS founders of a concern that students would leave their home group if they got training elsewhere. Now a large percentage of Pagans surveyed say that they are either solitary by choice or unaffiliated with a group for other reasons. Finally, most tradition training does not cover the topics taught at a seminary. Since this is one of the most common inquiries we've received over the years, we felt that it was time.
What Is Sacred Well Congregation?
From their web site: "The Sacred Well Congregation International is a Universalist, independent, non-evangelical Wiccan Church. We are organized for the purpose of conducting and promoting religious worship on alternative Spiritual Paths. Our Church provides open, public venues for the practice of the Old Religions; we promote community benevolence efforts, spiritual counseling, and religious educational programs, and provide extensive spiritual and administrative support to service members, their families and military communities.We believe that there are many paths leading to the same spiritual dwelling place, and we affirm the right of any individual to choose his or her own path, and the right of any group to worship the Divine in any lawful manner they may choose. branches of our family tree extend far and wide. Our Kindred reside across all fifty States and in twenty-three nations on six continents. We are formally affiliated with the Greencraft™ Tradition of Wicca, a branch of the Continental Alexandrian line originating in the Benelux. We work in harmony and purpose with a number of individuals and organizations across North America and around the world to promote tolerance, understanding and love for all Paths Sacred. We are, in concept and in fact, a Church without walls."