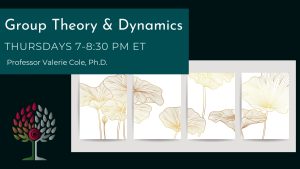 Designed to assist group leaders in understanding the stages of group development, the dynamics of member interactions and what makes a group succeed or fail. Through exercises, class interaction, readings and written assignments, students will learn to put various techniques to practical use in groups to which they already belong or plan to organize. With the development of these skills, the Group Leader will be better prepared to deal with group issues and lead more effective, cohesive and productive groups.
Department: Pastoral Counseling & Chaplaincy (PCC)
Required Reading:
Group Dynamics by Donelson Forsyth, 7th Edition, 2018, Cengage Learning
The Empowerment Manual – A Guide for Collaborative Groups by Starhawk, 2011, New Society Publishers
Class Meeting:  Thursdays, 7-8:30 PM ET
Total Tuition Cost: $570
To register:
If you are new to CHS, first complete this form, then the office will send you an invoice.
Current CHS students, please log in to your Populi account to register.
Professor: Valerie Cole, Ph.D. – is a practicing Reclaiming Witch in New York state. Previously Chair of the Pagan Pastoral Counseling Department for Cherry Hill Seminary, Valerie retired as Senior Associate, Disaster Mental Health, at the American Red Cross. She received her Ph.D. from the University of Iowa and began conducting sabbat rituals while in graduate school. She taught graduate and undergraduate courses in the Department of Psychology and helped develop the Masters in Mental Health Counseling program at St. John Fisher College in Rochester, NY. Valerie also maintained a private psychotherapy practice for several years, focusing mainly on relationships: relationship with the self, with one's higher power, and with others. She uses meditation, guided imagery and ritual to facilitate personal transformation. Her article "Healing Principles: A Model for the Use of Ritual in Psychotherapy" appeared in Counseling and Values in 2003.