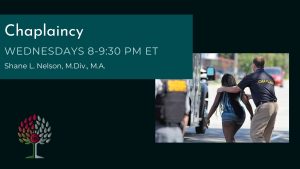 What is the difference between a minister and a chaplain? This is an opportunity to explore an overview of the range of venues for ministry, and the unique interfaith role of the chaplain in institutional settings. Students will become familiar with the global and historical context for chaplaincy, the community circle of chaplaincy, interfaith dialogue and its meaning for modern Pagans. Students will learn how to effectively function in this specialized ministry by sharing knowledge, understanding, acceptance and respect, as well as working to protect and promote free expression of religion for all faith formations, collective and individual.
Department: Ministry, Advocacy & Leadership (MAL)
Required Reading:
Professional Spiritual and Pastoral Care: A Practical Clergy and Chaplain's Handbook by Roberts, Stephen B. (2011).  Woodstock, VT: Skylight Path Pub.  ISBN 978-1594733123.
Class Meeting:  Wednesdays, 8-9:30 PM ET
Total Tuition Cost: $570
To register:
If you are new to CHS, first complete this form, then the office will send you an invoice.
Current CHS students, please log in to your Populi account to register.
Professor: Shane L. Nelson, M.Div. – holds a BA in Religion from American Military University, a MA in Clinical Mental Health Counseling from Northwest Christian University, and a MDiv from Starr King School for the Ministry. He is a Certified Drug & Alcohol Counselor Registrant, a Licensed Professional Counseling Registered Intern, and a Certified Clinical Trauma Specialist serving veteran, homeless, and forensic populations as a mental health provider. Shane is a veteran with over ten years of military service, including three years of service to Sacred Well Congregation as a Distinctive Faith Group Leader (DFGL). After his separation from the military, Shane served as a middle/high school Career and Technical Education (CTE) Instructor & Assistant Principal working with "at risk" youth and a Primitive Survival Instructor. He was ordained through Sacred Well Congregation in 2013. Shane is a published illustrator, working with Oregon Health Science University (OHSU) and Early Assessment and Support Alliance (EASA).