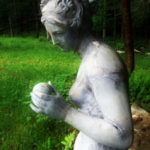 Starhawk is best known for writing The Spiral Dance and co-founding the Reclaiming tradition of Witchcraft, but what don't you know about Starhawk? Her ideas have changed over the decades and the focus of her work has shifted. Her contributions span the gamut from composing ritual chants that have come to be known as traditional to blending magical practice with anti-globalization activism to teaching the practical skills of permaculture. In this course we'll sample Starhawk's writing from the 1970s to the 21st century, asking what changes her work has wrought in herself and in Pagan communities.
Instructor:  Sarah Whedon
Class meetings: none
Required Readings:
Starhawk. The Spiral Dance: A Rebirth of the Ancient Religion of the Goddess, 20th anniversary edition. HarperOne 1999
Important Note: You must have access to the 20th anniversary edition of The Spiral Dance – earlier editions will not do for the purposes of this course.
Additional readings will be posted in the Moodle classroom.
Pay to register now