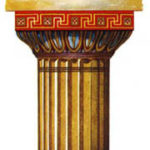 Description: From at least the Neolithic, Goddess has been represented across continents through symbol and form. Through art and artifact, we will examine her history and co-create meaning for today, learning from the cultures of Africa, Asia, the Middle East and Europe lost pieces of our own story. We will also engage in relevant discussions concerning myth and language, bringing ourselves current in the academic discourse around women's roles and Goddess' power.
Instructor:  Chandra Alexandre
Class Meetings: no meeting
Prerequisites: None
Required Reading:
Baring, Anne & Cashford, Jules. 1991/1993. The Myth of the Goddess: Evolution of an image. London: Penguin.
Stone, Merlin. 1990. Ancient Mirrors of Womanhood. San Francisco: Beacon.
Olson, Carl. 2002. Book of the Goddess Past and Present: An introduction to Her religion. Long Grove, IL: Waveland Press