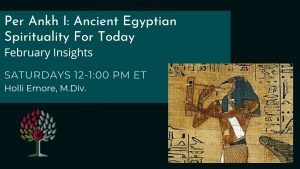 Just back from her pilgrimage to the land of Kemet, join Holli Emore for four exciting weeks discovering the landscape that inspired the world's oldest recorded religion – the mighty Nile, the deserts, the delta and Kemet's neighbors. Learn about the several major creation myths, introduce yourselves to ancient netjeru (deities)
and their temples. Consider what ancient Egypt means for us today. This Insights course is designed for a general audience and does not earn academic credit.
There are no prerequisites. There are no required assignments or grades, but in order to
participate fully you are asked to complete readings in the days prior to a course meeting,
and visit and read the linked material in the online classroom.
Instructor: Holli Emore, M.Div.
Meeting Day/Time: Saturdays at Noon ET, Feb 4, 14, 21, 28
Required Reading: Egyptian Mythology: A Guide to the Gods, Goddesses, and Traditions of
Ancient Egypt by Geraldine Pinch. Oxford University Press, 2002.