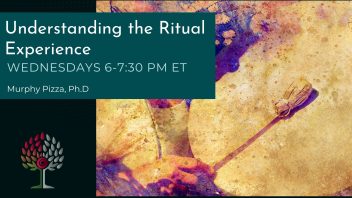 Because Pagans attend, observe, think about, and read and write about a lot of rituals, an examination of ritual and the ritual experience provides a more in-depth understanding of Pagan religion and spirituality. Students will encounter a robust field of discourse, open to the particular insights of ritual practitioners, exists in the academic fields of ritual studies and liturgical studies, review key ideas about ritual, explore writing by scholars in the social sciences, humanities, and theology. Through a substantial encounter with contemporary thought about ritual, students are challenged to use that thought to examine their own tradition, comparing their own understandings of ritual experience with those of other religious traditions.
Department: Theology & Religious History (TRH)
Required Reading: 
Bell, Catherine. Ritual Theory, Ritual Practice. New York: Oxford University Press, 1992.
Blain, Jenny. Nine Worlds of Seid-Magic: Ecstasy and Neo-Shamanism in Northern European Paganism. London: Routledge, 2002.
Grimes, Ronald L. Deeply Into the Bone: Re-Inventing Rites of Passage. Berkely: University of California Press, 2000.
Tedlock, Barbara. The Woman in the Shaman's Body: Reclaiming the Feminine in Religion and Medicine. New York: Bantam Dell, 2005.
Class Meeting:  Wednesdays, 6-7:30 PM ET
Professor: Murphy Pizza, Ph.D. – is a cultural anthropologist with a specialization in comparative religion. Her teaching and    academic background includes anthropology, ethnic studies, art, humanities, religion, philosophy, social action, natural and social sciences, and research methods. She is Regional Vice President of the Upper Midwest American Academy of Religion and a regular convener and participant in their Conference. She has written the book Paganistan: Contemporary Pagan Community in Minnesota's Twin Cities (Ashgate, 2014), co-edited and contributed to The Brill Handbook of Contemporary Paganism (2009), contributed to Sacred Schisms (Cambridge, 2009), and the Handbook of Nordic New Religions (Brill 2015), and has published and presented several articles in the realm of Contemporary Paganism and New Religious Movements. She lives and teaches at several colleges and universities in the Twin Cities, Minnesota area.