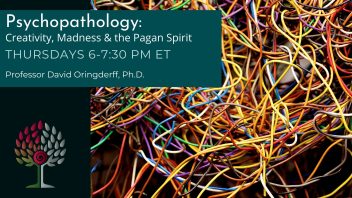 Psychopathology will be explored from a spiritual/Pagan perspective. Students learn diagnosis as it is currently applied and spiritual/Pagan approaches to diagnosis and alternative states of consciousness. Required for Pastoral Counseling and Chaplaincy students.
Department: Pastoral Counseling & Chaplaincy (PCC)
Required Reading:
American Psychiatric Association. (2013).  Diagnostic and Statistical Manual of Mental Disorders 5 (5th ed.).  Washington, DC:  American Psychiatric Publishing. ISBN-10: 0890425558; ISBN-13: 978-0890425558
Recommended Texts:
Nussbaum, Abraham M. (2013).  The Pocket Guide to the DSM-5(TM) Diagnostic Exam. Washington, DC:  American Psychiatric Publishing, ISBN-10: 1585624667, ISBN-13: 978-1585624669
Scotton, Bruce (ed); Chinen, Allan (ed); and Battista, John (ed). (1996).  Textbook of Transpersonal Psychiatry and Psychology.  New York:  Basic Books. ISBN-10: 0465095305, ISBN-13: 978-0465095308
Wilber, Ken. (2000).  Integral Psychology:  Consciousness, Spirit, Psychology, and Therapy.  Boston:  Shambhala Publishing. ISBN-10: 1570625549, ISBN-13: 978-1570625541
Other readings and references will be posted as PDFs or links to web pages in the Moodle classroom as required.
Class Meeting:  Thursdays, 6-7:30 PM ET
Registration for this course is now closed.
Professor: David Oringderff, Ph.D. – is a licensed psychologist who received his Ph.D. in Clinical Psychology from The Union Institute School of Professional Psychology in Cincinnati, Ohio in 1997. Dr. Oringderff is a veteran of over thirty-five years in military and civilian law enforcement and intelligence work. He is currently a consultant and trainer in forensic and organizational psychology, and psychodiagnostics. Dr Oringderff co-founded the Sacred Well Congregation, which primarily serves military Pagans and their families, in 1994. He currently serves Sacred Well as Vice Executive Director, Executive Agent for the International Council of Clerics, and Endorser of lay leaders for military open circles.