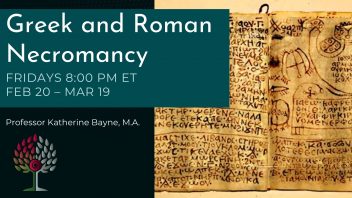 Demystify the Greek and Roman traditions of necromancy. Subjects include the Greek cult of the Dead, exorcisms, and "laying" of restless spirits, practical magic, and more.
Required Reading:Greek and Roman Necromancy by Daniel Ogden
Class Meeting:  Fridays 8:00pm EST
Class Dates: Feb 20 – Mar 19
Pay to Register Now   COURSE NOW FULL/CLOSED
Professor: Katherine Bayne, M.A. – holds a Master of Arts in Thanatology as well as graduate training in Clinical Mental Health Counseling. Having previously maintained a blog dedicated to the ancient Greek gods, Katherine Bayne now has many research, writing, poetic and practical projects centered around the Morrígan, the Celtic Faery Faith, Appalachian Folklore and Irish Witchcraft. She currently lives near the beautiful Appalachian mountains with her husband and beloved daughter, and studies IT Security.