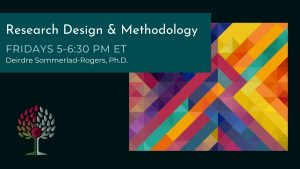 Introduction to research methods, statistical analysis, needs assessment, and program evaluation, including the importance of research in advancing the counseling profession; research methods such as qualitative, quantitative, single-case designs, action research, and outcome-based research; statistical 57 methods used in conducting research and program evaluation; principles, models, and applications of needs assessment, program evaluation, and the use of findings to effect program modifications; the use of research to inform evidence-based practice; and ethical and culturally relevant strategies for interpreting and reporting the results of research and/or program evaluation studies. APA style is required in papers.
Department: Core Course required for all degree programs
Required Reading:
Research design: Qualitative, quantitative, and mixed methods approaches by Creswell, J. W., & Creswell, J. D. (2017). Sage publications.
Class Meeting:  Fridays, 5-6:30 PM ET
Total Tuition Cost: $570
To register:
If you are new to CHS, first complete this form, then the office will send you an invoice.
Current CHS students, please log in to your Populi account to register.
Professor: Deirdre Sommerlad-Rogers Ph.D. – has served as Cherry Hill Seminary faculty in the department since 2011. She received her bachelor's and master's degrees from San Jose State University, in Psychology and Sociology, and her Ph.D. in Sociology from Bowling Green State University, with minors in Women's Studies and Social Psychology. She had held the position of tenured professor and Department Chair in Sociology and Criminal Justice. She is currently consulting as a statistical and dissertation consultant. Her areas of focus and teaching have included criminal justice, inequalities, and social construction of difference.