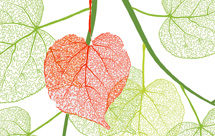 How do we know the climate is changing or what is causing it? What can different contemporary Pagan traditions add to our understanding of the issues involved? Why do some people refuse to acknowledge the problem? How can we have intelligent, persuasive discussions with "climate deniers?" This class is designed for the nonscientist to answer these questions and practice basic tools of critical analysis and communication that are widely transferable to other topics. In the process, students will develop both the knowledge and the skills to be effective advocates for Gaia.
Fulfills:  This is a requirement for the certificate in Environmental Leadership and counts as an Area I class for other students.
Prerequisites: none
Instructor: Wendy Griffin
Class Meetings: Monday at 8:30 pm ET
Required Texts:
Marshall, George. 2014. Don't Even Think About It. New York: Bloomsbury Publishing.
Griffin, David. 2015. Unprecedented. Atlanta: Clarity Press
Other readings will be supplied by the instructor.