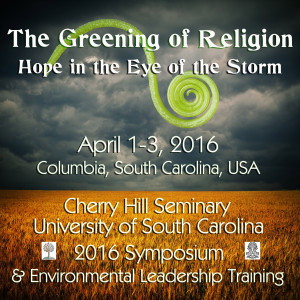 DILEMMA
Government has failed. Corporate interests and non-profits have also failed.  What about the world of religion? Concern for the environment has become so acute that a recent president of the prestigious American Academy of Religion used her annual address to call on all religious groups, seminaries and people of faith to step forward in the fight against climate change, calling it the "greatest moral issue of our time."
RESPONSE
Increasingly, voices from a variety of religious and spiritual traditions are bringing the link between religion and climate change to national and international notice, from the Green Seminary Movement, to the 2015 Papal encyclical, to conferences ranging from the purely academic to interfaith meetings such as the World Parliament of Religions, and to the growing social activist emphasis on environmental justice.
THE CONFERENCE
The Greening of Religion: Hope In the Eye of the Storm Is a two and a half day event in Columbia, South Carolina, held at the University of South Carolina.  Attendees come from all over North America and beyond at the most beautiful time of year, enjoying the spring bloom of azaleas and dogwoods on this historic campus.
AUDIENCE
The Greening of Religion will bring together activists, sociologists, bioethicists, anthropologists, seminarians, clergy, planners, philosophers, scholars and students from across the continent and beyond.  Native American S.C. tribal leaders will be recognized at opening reception.
KEYNOTER
Bron Taylor, Ph.D., is Professor of Religion, Nature and Environmental Ethics at The University of Florida, a Carson Fellow of the Rachel Carson Center, and an Affiliated Scholar with the Center for Environment and Development at Oslo University.  As an interdisciplinary environmental studies scholar, Taylor's research and teaching engages the quest for environmentally sustainable and more equitable societies.  Author of  Dark Green Religion: Nature Spirituality and the Planetary Future and his most recent book Avatar and Nature Spirituality. http://www.brontaylor.com/
CALL FOR PAPERS
The Greening of Religion welcomes proposals that go beyond acknowledging climate change as a moral challenge to explore if and how religious and spiritual traditions and their practitioners engage with this challenge, its effect on their behavior and thinking, and if theological reflections have been modified in any way to adjust to the climate changes that confront us.
We are looking for proposals from a broad understanding of religion, including the Abrahamic, the Dharmic, the contemporary Pagan and the Earth-based, as well as from diverse methodologies: theoretical and practical, qualitative and quantitative, normative and descriptive. Abstracts should be limited to 600 words and are due by September 30, 2015. NOTE: DEADLINE EXTENDED TO OCTOBER 31.
Send to: wgriffin@cherryhillseminary.org
Wendy Griffin, Ph.D.
Academic Dean
Cherry Hill Seminary